Coronavirus: Childcare Information for Childminders
Coronavirus: Childcare Information for Childminders
Whether you're able to remain open for key workers and vulnerable children, have temporarily closed your childcare setting, or plan to reopen to one household, we at Yoopies understand that this is a difficult and stressful time for your childminding business. What funding is available to me? Should I be back at work? Can I ask the family to keep paying me if I'm unable to work? Do I need to wear PPE?
You may have a lot of questions, but you're not alone! We have compiled a list of the most frequently asked questions by the childminder community and will regularly provide updated information on coronavirus as the situation develops. Here's all you need to know: (last updated 13/05/2020)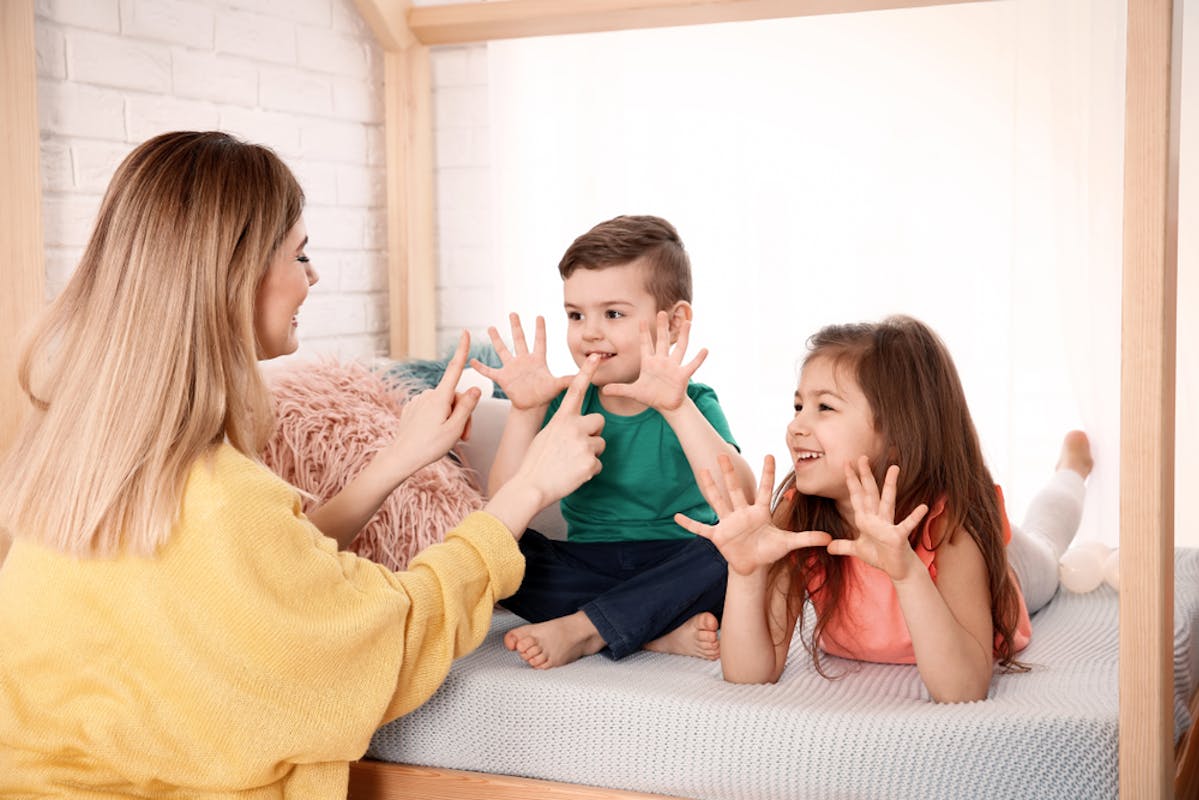 The most recent Government advice has stated that childminders are able to re-open their businesses to one household if they are not already looking after key-worker or vulnerable children. The children can be of any age, as long as they are from the same household.
The Government has said that after the 1st of June, childminders may be able to open to more children if the 5 key safety tests are met at this time.
We recommend that you have open discussions with the families you take care of to plan which parents most require your help at this time. Try to figure out how you will adapt your setting to encourage good hygiene practice. An updated safety policy is a good place to start. This could detail:
Arrival procedures and departure procedures of the children
Items children must bring (such as their own beakers, cutlery, Tupperware, towels)
Activities you plan to focus on (for example, spending time outside)
Emergency procedures (should you, the child be unwell or parent become unwell)
Safety measures and any social distancing measures you wish to set out

Ofsted have information on a rolling update basis, this can be found here
2) What are the 5 key tests?
To ensure that hospitals can cope with coronavirus cases and to avoid a second peak, the Government is keeping track of the current situation according to 5 tests.
1. Protecting the NHS's ability to cope.
2. Sustained and consistent fall in the number of deaths caused by Coronavirus
3. Rate of infection to be 'manageable'
4. Testing capacity and PPE equipment can meet future demands
5. Confident that adjustments and changes to lock down measures does not risk a second peak and overwhelm the NHS
3) What counts as a key worker or a vulnerable child?
Key Workers are employees that are considered by the Government to be essential to the running of the country and are allowed to continue going to work due to their necessity in the fight against Coronavirus. Childminders are to prioritise key-worker and vulnerable children.
Examples include: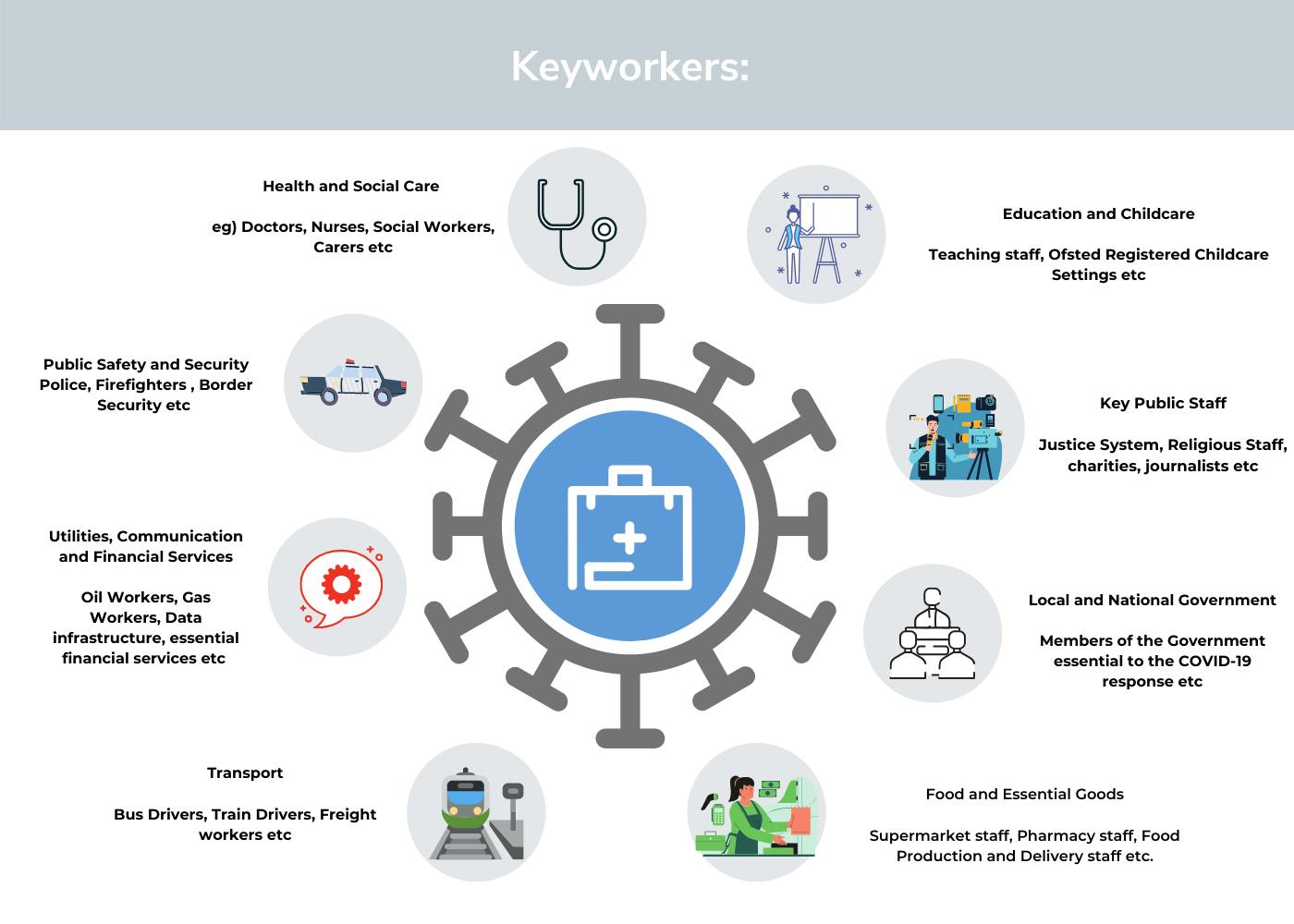 The full list of key workers can be found here.

Vulnerable children include: children with wellbeing and safeguarding needs such as a child in need plan, a child protection plan or EHC plan, those in social care, young carers, and disabled children. More details here.
4) Do I need to follow the EYFS framework when looking after key-worker or vulnerable children?
The Government has modified the EYFS framework in light of coronavirus measures to help childcare providers have greater flexibility during this period and still provide high-quality care. This could apply up to September 2020, depending on how the next few weeks develop. More information on the changes can be found here.
5) I am unable to work, should I ask the family to keep paying me?
Whilst the topic might be difficult to approach, having an open discussion may help alleviate some of the financial stress felt and, at a minimum, will provide financial clarity for the upcoming weeks and help you budget.
Whether you should continue to be paid if you're unable to work is a discussion to have with parents, however, do keep in mind that there is no legal obligation for them to continue paying for their child's place. Some parents are continuing to pay full rates, others are paying a partial rate as a 'retainer' fee for their child's place and some have stopped payments altogether. Should the parents voluntarily choose to keep paying you, remember to put this in writing to avoid any financial disputes down the line.
6) What if parents say they want their money back?
Should a parent demand money back, try to negotiate with parents a mutually beneficial solution.
We suggest that any money paid to you, partial or full fee on a voluntary basis should be recorded in a written format to avoid any money disputes down the line.
7) What funding is available to me?
There are a number of schemes that are available for childminders:
Self-Employment Grant
A grant is available for self-employed workers of up to £2500 per month. The amount is calculated by 80% of your average gross income (before tax) from the last 3 tax years. If you have had a childminding business for less than three years, an average from the years worked will be taken. You are able to apply if your childminding business has remained open for key workers and vulnerable children. It is, however, unclear how much this will impact the amount you receive, this will be taken into consideration alongside your previous tax returns.
The Government has said that these payments are scheduled to be made in June.
Childminders must have filed a tax return in January 2020 for the year April 2018-19 to qualify. This means that Childminders that have a business less than one year old will unfortunately not be unable to access this scheme.
You can check here if you're eligible.
Universal Credit:
Childminders can apply for Universal Credit. This may be a particularly useful option should you be waiting for your Self Employment Grant or are a new childminding business. Any new claimants will not have to demonstrate active efforts to gain business to the jobcentre, however, the eligibility criteria has not changed. You must prove:
Low income or not working
Over 18
Under the state pension age (or your partner is under)
You (and your partner) have less than £16,000 in savings
You are a UK resident
The Government has pledged to cut the usual 5-week waiting time. More information about applying can be found here.
Mortgage Relief:
The Government has announced a 3 month mortgage payment holiday for those struggling to pay their mortgage during this difficult time. Get in touch with your bank or building society for more information!
Ofsted Fees:
Ofsted Registration renewal fees sent after 3rd April will be charged from the 30th September, giving you a few extra months before having to pay.
Coronavirus Job Retention Scheme
If you employ an Assistant, you are able to furlough them through the Coronavirus Job Retention Scheme. Before furloughing your assistant, this must be agreed on by both parties. The Government will cover 80% of their wage, or up to £2500 per month. It is your choice if you choose to pay the extra 20%. To be eligible, you must have:
Registered your assistant on the PAYE payroll scheme on or before the 19th March 2020 and submitted HMRC their RTI (Real Time Information) on or before the 19th March 2020
Have a UK bank account
Statutory Sick Pay SSP:
If you employ an Assistant and they become unwell with Coronavirus, or have come into contact with someone who has Coronavirus they may be eligible for 2 weeks of SSP. To be eligible your assistant must:
Be classed as an official employee
Earn at least £120 a week
Been unwell or self-isolating for at least 4 days in a row
More information can be found here
Income Tax:
Self-Assessment Income Tax for the 31st July 2020 is postponed until 31st January 2021
Employment and Support Allowance (ESA)
Childminders are unable to apply for Statutory Sick Pay. Therefore, if you are sick, or are self isolating due to Coronavirus, childminders may be able to access ESA. This is payable from day one of your inability to work. You are eligible if:
You or your child may have contracted coronavirus
You came in to contact with someone with Coronavirus and are now self-isolating
The NHS have informed you that you are in the high risk category
Paid National Insurance contributions in the last 3 years.
More information can be found here
Early Years Funding
For childminders offering the free 15 hours or 30 hours schemes, the Government has pledged to keep paying, even if those children are currently not attending your childcare setting. However, the Government has announced that in June some payments will be kept to fund childcare providers who are remaining open. We recommend discussing this with your Local Authority, as each is slightly different.
8) If I am not working, do I still need insurance?
Ofsted requires you to have public liability insurance to be an Ofsted Registered Childcare Provider.
9) My First aid certificate has expired, can I still work?
If you have a first aid certificate that expires on or after 16 March 2020 and you are unable to renew your training due to coronavirus you may be able to apply for a 3 month extension.
More information can be found here.
10) Do I need to tell Ofsted if I am temporarily closed?
You only need to contact Ofsted should you decide to close your childminding business on a permanent basis.
11) Do I need to wear PPE when looking after children??
Current Government advice suggests that childcare providers and children do not need to wear PPE.
The Government strongly suggests that good hygiene habits contribute to controlling the spread of the virus in the early year's settings and at home. We, therefore, recommend you regularly wash your hands for 20 seconds with hot water and soap, avoid touching your eyes and nose, and use a tissue when coughing or sneezing and regularly disinfect surfaces. The children you care for should also be encouraged to follow good hygiene practices, this can be done through fun activities such as song and rhymes. It is a good idea to plan out your safety policy to parents so both parties are clear on how you plan to keep your setting safe.
Further Government advice on cleaning can be found here.
Further Government advice on personal hygiene and adaptation of childcare settings can be found here
9) Will Ofsted still inspect me?
For the moment Ofsted have suspended inspections
10) Can I take children outside?
Yes, you are able to take the children you look after to the park and outdoor spaces more than once a day. Activities such as picnics and sunbathing are now permitted. When at the park, keep 2m away from people outside your household and refrain from meeting up with others or congregating in large groups. You are allowed to meet with one person from another household, at a 2m distance.
Avoid taking the children to potentially crowded areas or using public transport where possible. When leaving the house with the children, we recommend you bring hand sanitiser and tissues.
11.) How long will childcare coronavirus measures be in place?
The question on everyone's minds is how long will this last? Unfortunately, the truth is, there is no definitive date when life will return to normal. The Government provides a daily briefing that highlights progress and any major changes across the UK.
Currently, the biggest change for childminders is the possibility of looking after children from one household. If the 5 tests are met by June 1st, childminders may be able to take care of more children.
We expect good hygiene practice measures and increased safety precautions to be in place for the foreseeable future.
12.) Can I get tested for Coronavirus?
Childcare providers can be tested should they believe to have coronavirus symptoms. More information about the process can be found here.
Got a question we haven't answered? Feel free to drop us a message at contact@yoopies.com and we will guide you the right point of call. We will keep you updated as the situation changes, in the meantime, the Yoopies team are consistently pushing to get your voices heard to ensure that childminders are not forgotten.